By Dan Macintosh


For Aaron Sprinkle, whose creative reach can be likened to an ever-expanding universe, even the seemingly infinite sky is no real limitation. So the decision to give his new project the ambitious moniker of Moontraveler should come as no real surprise to anyone.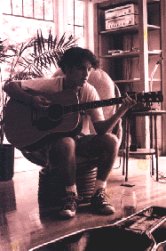 Though still a young man, Sprinkle has been recording music for almost a decade. From the pioneering band Poor Old Lu to the more recent Rose Blossom Punch, and now with his solo debut, his creative energy has simply been unstoppable. While artistic identities may change, the same high quality work always remains the same.
In addition to being an established recording artist, Sprinkle is also a successful producer, having manned the board for artists Sherri Youngward, MxPx, Grammatrain, and Squad Five-O just to name a few. In fact, he has ambitions of one day owning his own state of the art recording studio, where he can harness all of his many talents in one place. But for now, he's concentrating solely upon sharing his heart in his own songs.
Moontraveler has Sprinkle's unique signature all over it. Yet in many ways its very different from anything he's ever done before. "This is a really new thing for me," he says, "because I recorded it myself. I played everything. I just sat in a room by myself, and created stuff on my own."
While Moontraveler showcases Sprinkle as a kind of modern day one-man band, the guitar is still His most skillfully played musical tool. "The guitar feels the most comfortable in my hand," he says. "But I can hack my way through a bass part or a keyboard part."
This results in music that artfully mixes the emotionalism of a Neil Young, with the moodiness of The Cure. For Christian music listeners, comparisons can also be drawn between Moontraveler and the groundbreaking recordings of The Choir.
At times, there's a tangible sadness to this music. But as The Choir once unflinchingly pointed out, a sad face can sometimes be good for the heart. "I always write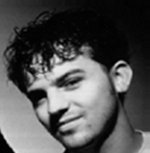 kind of melancholy-ish stuff," says Sprinkle. "But I don't think people who know me would think of me as a sort of melancholy, dreary person. It just kind of comes out in my music."
But facing the sadness in this life can actually be therapeutic, according to Sprinkle. "I think people need to recognize the sadness in this life. The more honest I am with myself, and the sinner that I am, and what I'm really capable of, the more it makes sense as to why Christ died. It makes it that much more real to me, that that was the only option. Maybe that's why I'm so optimistic; because I acknowledge these things," he continues. "In fact, my wife almost gets mad at me about how optimistic I am. As always, though, I also try to convey a sense of hope, because I have such a strong sense of hope."
Above all, Sprinkle intends to be honest with himself. "My artistic mission is that I want to maintain an honesty in everything. If you're so immersed in your sorrows, and aren't really looking at the hope, that can be a dangerous thing. But on the other hand if you're too into the kind of candy-coating on the outside mentality that sometimes comes along with Western Christianity it can really blind you as well. I think both extremes really get in the way of God's undying grace."
If you've ever heard radio personality Casey Kasem, you're aware he always ends his program by admonishing listeners to keep their feet on the ground, but to keep reaching for the stars. Sprinkle has seemingly taken that advice to heart, because Moontraveler is one more giant step in his musical journey of combining a solidly planted faith with an unlimited artistic ambition.
---

page design ©1999 bittersweet communications